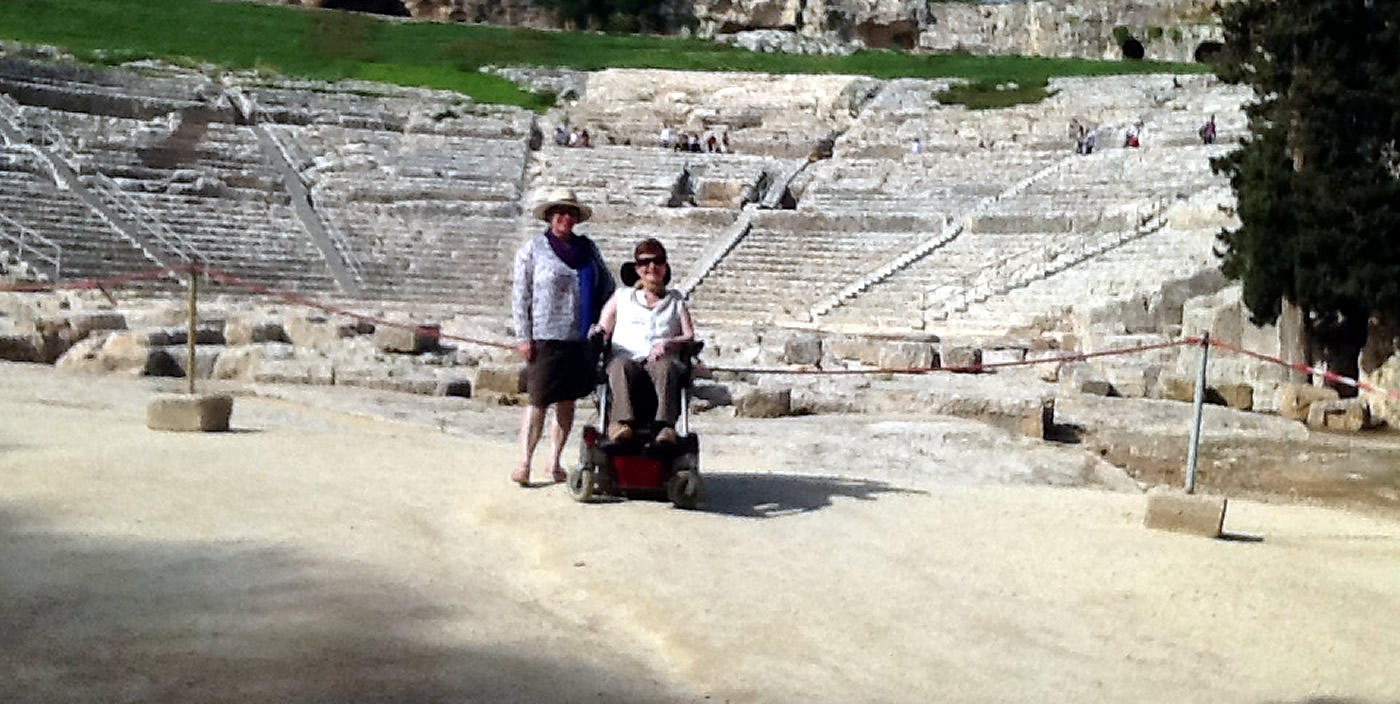 Sicily and Taormina wheelchair disabled accessible tours with adapted van.
Sicily and Taormina wheelchair disabled accessible tours with adapted van is the largest of the Italian islands.
Is the pearl of Southern Italy and can be discovered by adapted van transportation for wheelchair users.
Understood and experienced through a series of tours itineraries dedicated to areas of interest ranging from nature to history and traditions.
This fertile paradise was settled by Siculi, Phonecians, Greeks, Carthaginians, Romans, Moors, Normans, Spaniards and Bourbons among others.
The remnants of these astounding cultures cover the entire island, from the Temples of Agrigento to the priceless mosaics of Piazza Armerina and the ancient capital of Syracuse.
The island bares a triangular shape and in ancient times it was called Trinacria, which means three pointed.
Sicily Accessible Tours
Many sites in Sicily are accessible and can be visited by adapted van.
Wheelchair friendly accessible excursions and Accessible Italian Holiday provide a safe and a full accessible tours around the island at previewed itineraries.
Our adapted van specifically designed for disabled traveling on holidays to Sicily and Taormina has all wheelchair users facilities

Touring Sicily
This is a land of extremes, with incredible beaches, sprawling cities and ancient hilltop villages.
Capping off the Etna Regional Park is Sicily's main attraction, Mount Etna.
This active volcano has spewed lava on and off for centuries and affords the very best views on the Mediterranean's largest island.
Lying off the eastern side of the island and not far from Catania and Taormina.
Of course, the beaches are another major draw for Sicily and Taormina wheelchair disabled accessible tours with adapted van and holiday makers arrive at the main beach resorts in their droves during the summer months.
The medieval town of Erice is another leading tourist destination on Sicily and lies on the western side, coming with old fortifications and winding streets.
Not to be missed is an afternoon exploring the ancient Valley of the Temples ( Valle dei Templi ), on the south of Sicily, near the town of Agrigento.
In Palermo, the Monreale Cathedral ( Cattedrale Monreale ), the Mirto Palace ( Palazzo Mirto ) and the Palace of the Normans ( Palazzo dei Normanni ) all stand out.
Accessibility
Holiday accessible tours in Sicily by wheelchair for a disabled in our days, isn't an easy task due to the fact of his territory and "accessibility culture".
For this reason we are strongly raccomending you to travel with us.

Sicily and Taormina wheelchair disabled accessible tours with adapted van and Accessible Italian Holiday provide a safe and a full accessible tours around it at previewed itineraries with adapted van specifically for disabled holiday.
Calatabiano Castle
The Arabs called it Kalaat-al Bian, but some findings suggest its existence since the time of the Greeks ...
Caltagirone
In south-eastern Sicily lies the beautiful Caltagirone, a city of a thousand faces. Of all the towns ...
Cefalu'
Cefalu' is notable for beautiful sunsets, unpretentious charm, and a very appealing blend of ...
Eraclea Minoa
Eraclea Minoa disabled traveling accessible tours an archaeological site of extraordinary cultural ...
Erice
Erice is not simply a place to see and not to be missed in Sicily, but it is one of those places where ...

Marsala
Marsala, an elegant town rich in sumptuous buildings. Founded by the Phoenicians, conquered ...

Mazara del Vallo
Mazara del Vallo private Sicily disabled accessible tours was defined by historians and intellectuals ...
Modica
Modica is situated in the dramatic landscape of the Monti Iblei, a range of high ground divided up ...
Mount Etna
Sicily accessible tours wheelchair traveling Mount Etna excursions is designed for those who wish ...
Noto
Accessible Noto disabled tours traveling Sicily is in the provence of Syracuse, quite simply, the ...
Ortigia Island
Syracuse accessible tours Ortigia Island disabled Sicily excursions is one of the few centers in the ...
Palermo
Palermo accessible tours wheelchair friendly Sicily excursions and what makes amazing its ...
Piazza Armerina
Nicknamed "Mosaics Town", the Sicily wheelchair friendly Piazza Armerina disabled accessible tours ...
Ragusa Ibla
Sicily disabled Ragusa Ibla accessible Italian tours, capital of the province of the same name, is located ...
Sciacca
Sicily wheelchair users Sciacca accessible Italian tours, is a historic fishing port on the southern coast ...
Scicli
This Sicily wheelchair friendly Scicli accessible Italian tours excursion. Less well-known than its ...

Segesta
This Sicily reduced mobility Segesta accessible Italian tours day excursion, standing alone, in glorious ...
Selinunte
Sicily handicapped Selinunte accessible Italian tours, situated by the sea in the south-western corner ...
Siracusa
This Sicily disabled traveling Siracusa accessible Italian tours excursion Syracuse ( or Siracusa ) ...
Taormina
Sicily accessible tours to Taormina, has been a very popular destination with tourists since the ...
Valley of the Temples
Sicily wheelchair friendly Valley of the Temples accessible Italian tours. Is the most famous historical ...
Sicily wheelchair users accessible services
Sicily wheelchair users accessible Hotels