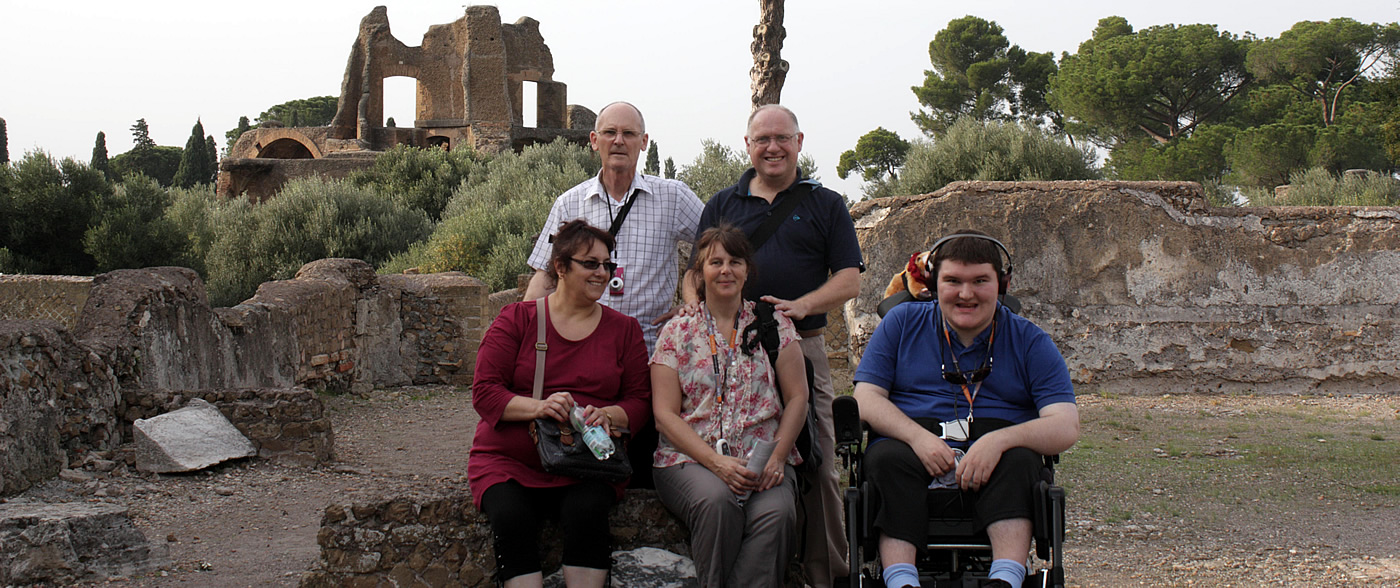 Rome wheelchair friendly accessible Italian tours.
Rome wheelchair friendly accessible Italian tours
No one can visit on holiday Rome wheelchair friendly accessible Italian tours and not be touched by her timeless beauty.
Wherever you go are struck by the spectacular architecture, with many sights worth visiting such as Vatican Museums, Colosseum, St Peter's Church, Trevi Fountain, Pantheon, Navona Square, the Spanish Steps and Castel Sant' Angelo.
We combine an Rome wheelchair friendly accessible Italian tours by adapted van.
The pleasures of the beach with interesting cultural-historical excursions completley tailored for wheelchair disabled needs.
Rome Wheelchair Accessible Tours
Many sites in Rome are accessible and can be visited by adapted van. We viewed and checked for you the main, monuments, churches, museums, hotels and listed here including accessibility details, very important for disabled wheelchair users, opening times and ticket costs.
Rome wheelchair friendly accessible Italian tours add your Rome Accessible Tours holiday by adapted van, once you have choose the accommodation from a Accessible Accommodations, on the booking form.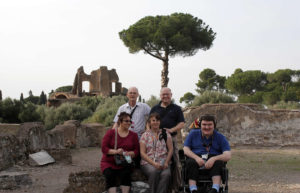 Accessibility
Holiday accessible tours in Rome by wheelchair for a disabled in our days, isn't an easy task due to the fact that usually the pavement isn't in "pave'" style.
The side-walks are narrow, only main streets have slipways and quite often car are parked on it.
Rome wheelchair friendly accessible Italian tours and Accessible Italian Holiday provide a safe and a full accessible tours around Rome at previewed itineraries with adapted van specifically for disabled holiday.
Touring Rome
Rome wheelchair friendly accessible Italian tours undoubtedly there is no place in the world that has the largest areas where digging, research and studies are still under way.
This is not the heritage of a single city or nation; Rome it is the heritage of mankind.
The magnificence of its public buildings, such Colosseum and Pantheon, constructed by various successive Emperors in command, were and are, the evidence of a civilization that, knew how create an official language Latin.
Was able to connect all conquered lands with a system of roads still used today, brought water from where immense aqueducts were created, founded the basis of civil law.
Ancient Ostia
Wheelchair accessible Ancient Ostia tours tradition says that was founded by Ancus Marcius, the fourth ...
Appian Way
Wheelchair users accessible Appian Way tours in Rome is one of the most famous ancient roads ...
Baths of Caracalla
The Thermae Antoninianae or Caracalla Baths wheelchair accessible is one of the largest and ...

Borghese Gallery
The Borghese Gallery of Rome is probably the most fascinating museum in Italy. An ancient XVII century ...
Campo De' Fiori
In 1456, Pope Caristus III ordered a development of Parione area district. And this pavement square was ...
Capitoline Hill
The Capitoline Hill disabled accessible Rome tours is one of the legendary seven Hills of Rome, along ...
Castel Sant'Angelo
Walking along the Tiber, not far from the Basilica of St Peter you can see a monument that will certainly ...
Circus Maximus
Located between the Aventine and the Palatine hills, the Circus Maximus of Rome was a stadium ...
Colosseum
Originally the Flavian Amphitheater, is an elliptical amphitheater in the center of the city of Rome, ...
Domus Aurea
The Domus Aurea was an imposing building built by the Emperor Nero after the great fire in Rome ...
Etrurian Museum of Villa Giulia
The Etrurian Museum disabled Rome accessible tours, is a museums of the Etruscan civilization ...
Hadrian's Villa
Rome disabled Hadrian Villa accessible tours to Tivoli near Rome, was a complex of over 30 buildings, ...
Jewish District
The Jewish District of Rome is definitely a district to be included in your itinerary in the name of history ...
Mausoleum of St Costanza
The Mausoleum of Constantine, better known as the Mausoleum of St Costanza, is a masterpiece ...

Mouth of Truth
It is as unique as what was the manhole of a sewer, has become one of the monuments of Rome ...

Museum of Ara Pacis
The Ara Pacis Augustae, or the Altar of Peace of Augustus, celebrated the pacification in the Mediterranean ...
Museum of Rome
Palazzo Braschi houses the Rome Museum disabled accessible tours. The magnificent 18th century ...
National Museums
The Rome disabled accessible National Museum of Rome tours is a set of museums in Rome, split between ...
Navona Square
Piazza Navona is a square in Rome, Italy. The Rome disabled Navona Square accessible tours follows ...
Pantheon
Rome tours disabled Pantheon accessible excursions, meaning "Temple of all the Gods", is a ...
Quintili's Villa
Just beyond the ancient gates of Rome, between the Appian Way and Via Appia Nuova, Rome wheelchair ...
Sistine Chapel
The Rome accessible Vatican Museums Sistine Chapel disabled tours takes its name from Pope Sixtus ...
Spanish Steps
The Rome wheelchair users Spanish Steps accessible Italian tours, climbing a steep slope between ...
St Peter's Church
Rome wheelchair users St Peter Church accessible Italian tours, is one of four major basilicas of Rome ...
St Sabina Basilica
The Aventine hill, where the St Sabina Basilica wheelchair accessible tours rises, is a place very ...
Trastevere
Rome handicapped Trastevere accessible Italian tours is a picturesque medieval area located on the ...
Trevi Fountain
The Rome disabled Trevi Fountain accessible Italian tours is the largest standing 25.9 meters ...
Vatican Museums
The Rome wheelchair friendly Vatican Museums accessible Italian tours trace their origin to ...
Villa D'Este
Rome disabled Villa D'Este accessible Italian excursions is in Tivoli is a historic hilltown in the Latium ...
Villa of Maxentius
Rome disabled Villa of Maxentius accessible Italian tours a villa located at the third mile of the ...
Vittoriano
It seems obvious even to think of remembering it, but Rome, and above all its ancient part, offer really ...
Rome wheelchair accessible Services
Rome wheelchair friendly accessible Hotels