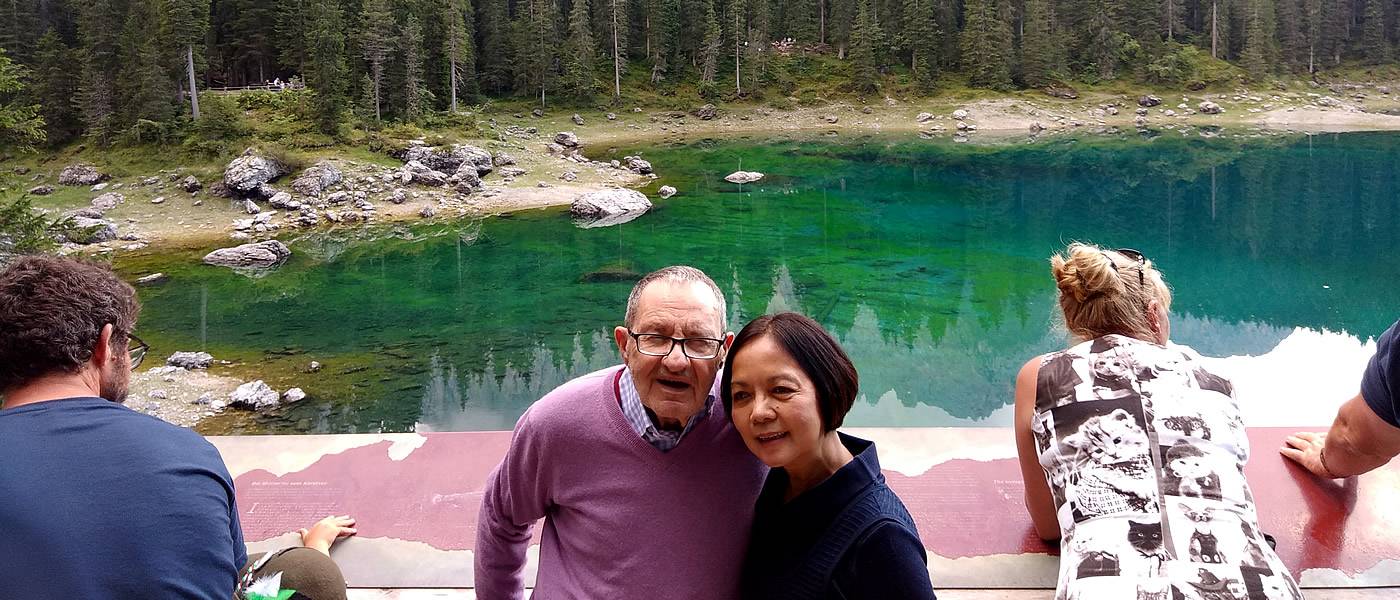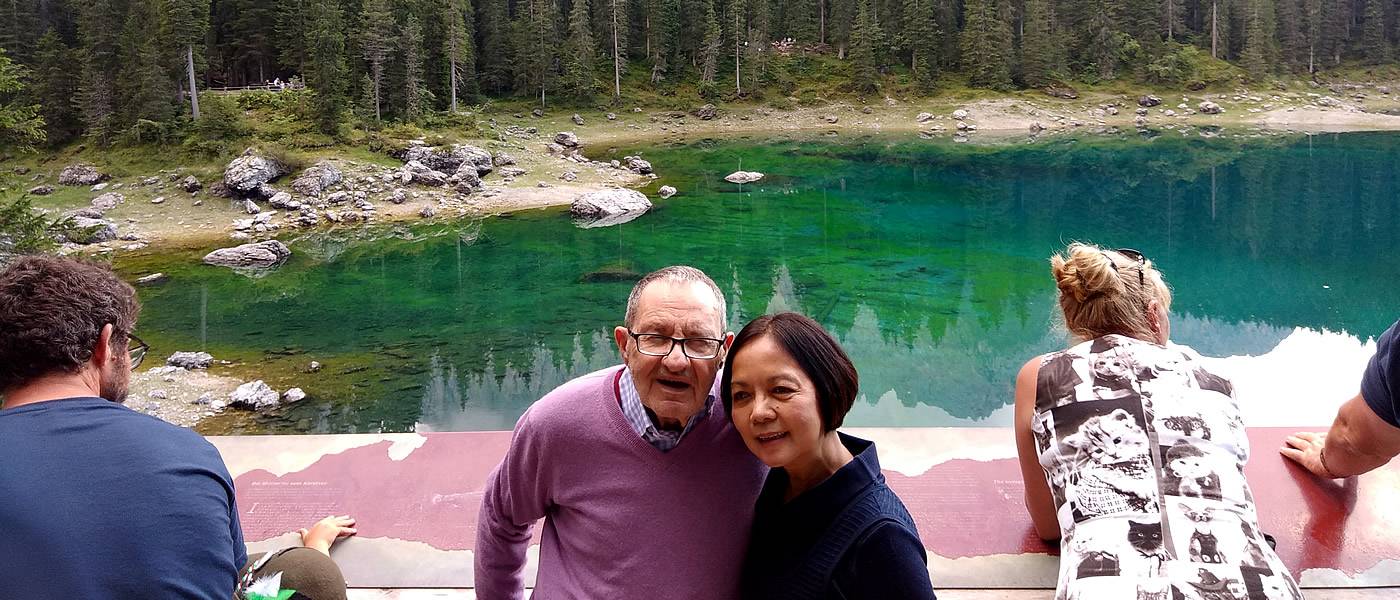 Lake Carezza Wheelchair Accessible Tours
Lake Carezza Wheelchair Accessible Tours
Lake Carezza Wheelchair Accessible Tours To Trentino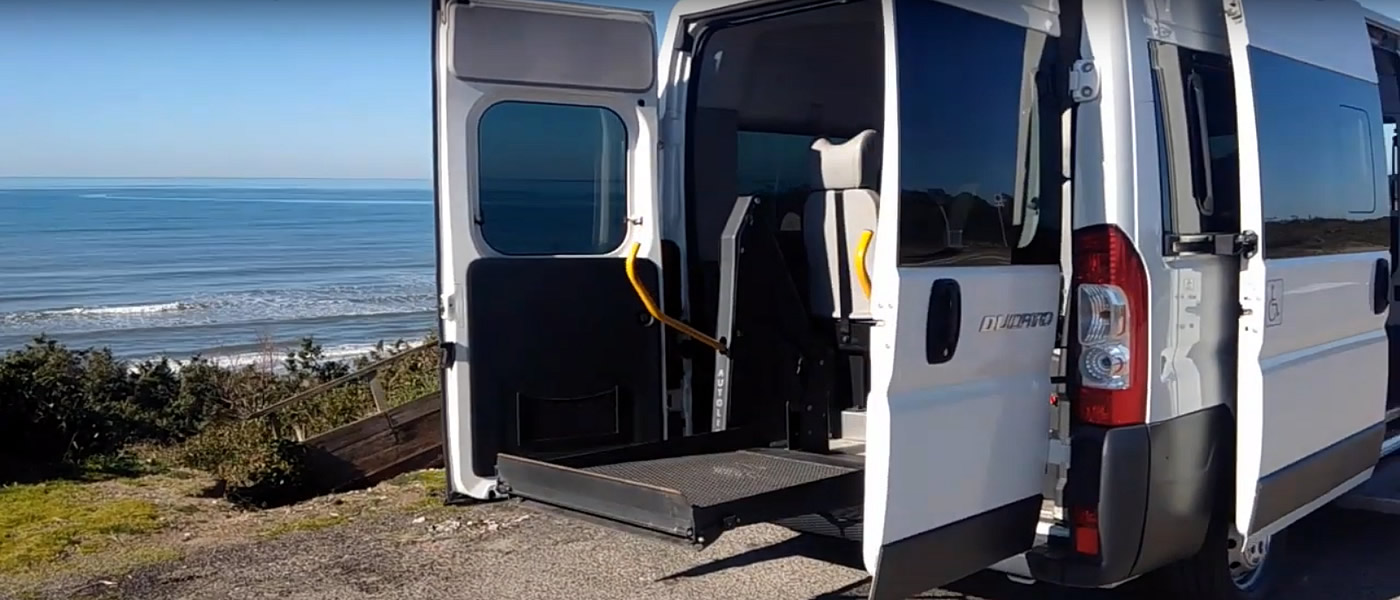 Our Adapted Van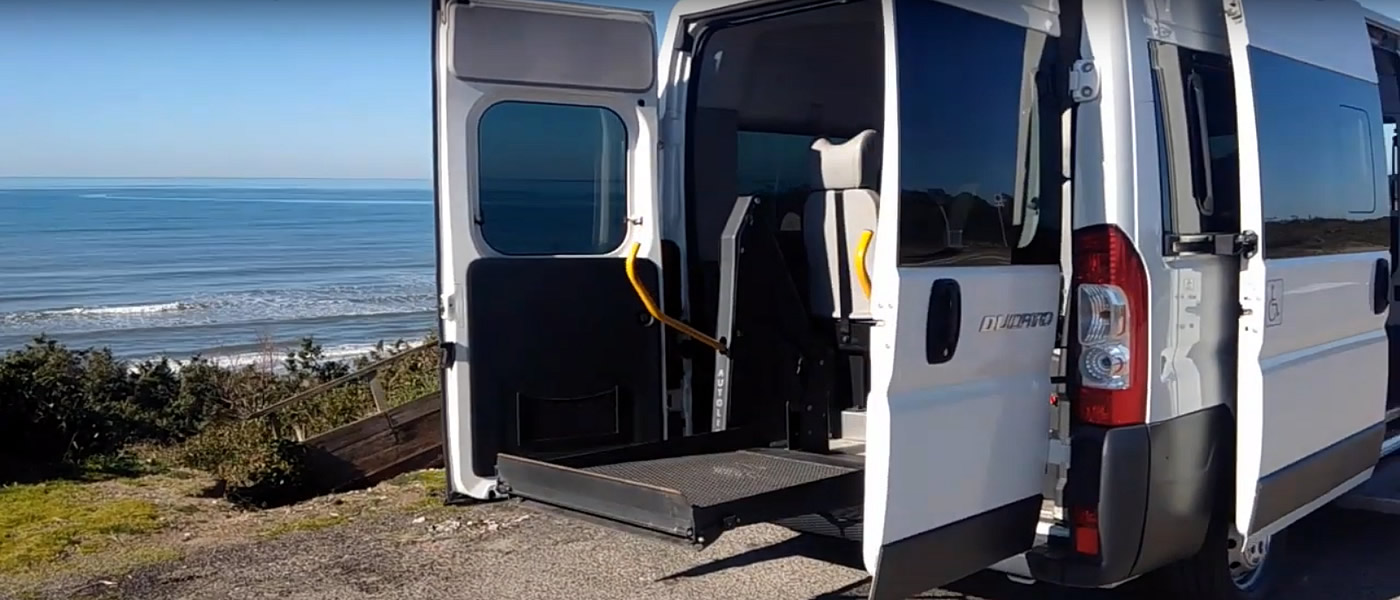 Lake Carezza Wheelchair Accessible Tours To Trentino
In western Dolomites, only six kilometers from Nova Levante, there is a small, emerald green mountain lake, in which the Catinaccio and Latemar are reflected: Lake Carezza.
Lake Carezza disabled accessible Trentino tours, due to its impressing colors, in Ladin language it is called "Lec de Ergobando" ( rainbow lake ).
The lake is at its most gorgeous in the evening or early morning, when the mountain ranges and the green of the Karerwald forest are reflected in its crystal clear water.
Touring Lake Carezza
Lake Carezza disabled accessible Trentino tours, is a natural spectacle you won't want to miss.
Legend has it that a magician smashed the rainbow he had created to seduce a mermaid into the lake, sending beautiful colors tumbling into the water.
The lake has no visible inlets, and is fed by underground springs.
Its extent and its depth varies depending on the season and weather conditions: the highest level is normally reached in late spring with the melting snow.
Dolomites Jewel
Lake Carezza disabled accessible Trentino tours spectacular aspect of the lake has always generated admiration and wonder.
Around it are gathered many legends of South Tyrol and numerous writers and poets have made it an inspiration for their paintings and stories.
Lake Carezza disabled accessible Trentino tours is one of the classic tourist destinations in Trentino -Alto Adige.
Even in the winter season is often visited by divers, they engaged willingly their underwater shots under a thick layer of ice and record in documentaries games colors groundwater.
Time to Travel
The small mountain lake is best known for its calm waters, dark green, and the beautiful view of the mountains.
If you wish to avoid the rush of visitors, it is best to visit Lake Carezza disabled accessible Trentino tours in the early morning or at dusk, when the lake is bathed in a magnificent play of colors.
You will certainly never forget your holiday in the Dolomites!
Despite of it we 're thinking that disabled wheelchair users shouldn't give up the passion of an holiday Lake Carezza disabled accessible Trentino tours and Accessible Italian Holiday provide a safe and a full accessible tours around it at previewed itineraries with adapted van specifically for disabled holiday.
Booking and Travel
Lake Carezza disabled accessible Trentino tours is accessible and can be visited by adapted van.

Lake Carezza disabled accessible Trentino tours add your Lake Carezza Accessible Tours holiday by adapted van, once you have choose the accommodation from a Accessible Accommodations, on the booking form.

Bolzano
Bolzano is situated in the northernmost part of Italy on the border with Switzerland and Austria, and ...

Canazei
Canazei, is without a doubt one of the treasures of the province of Trento, located in a magnificent ...

Gardena Valley
Lake Carezza wheelchair users accessible Gardena Valley tours is one of the most beloved valleys ...

Ortisei
Famous for its ornate woodcarvings and the lovely pedestrian area with great shops and cafés ...

The Dolomites
Celts, Noricans or Venetians, ever since, a mix of various different ethnic groups have been ...

Trento
Lake Carezza disabled Trento accessible Italian tours lies to the south of the Province of Bolzano ...
Italian Northern Lakes Wheelchair Accessible Services
Italian Northern Lakes Wheelchair Friendly Hotels