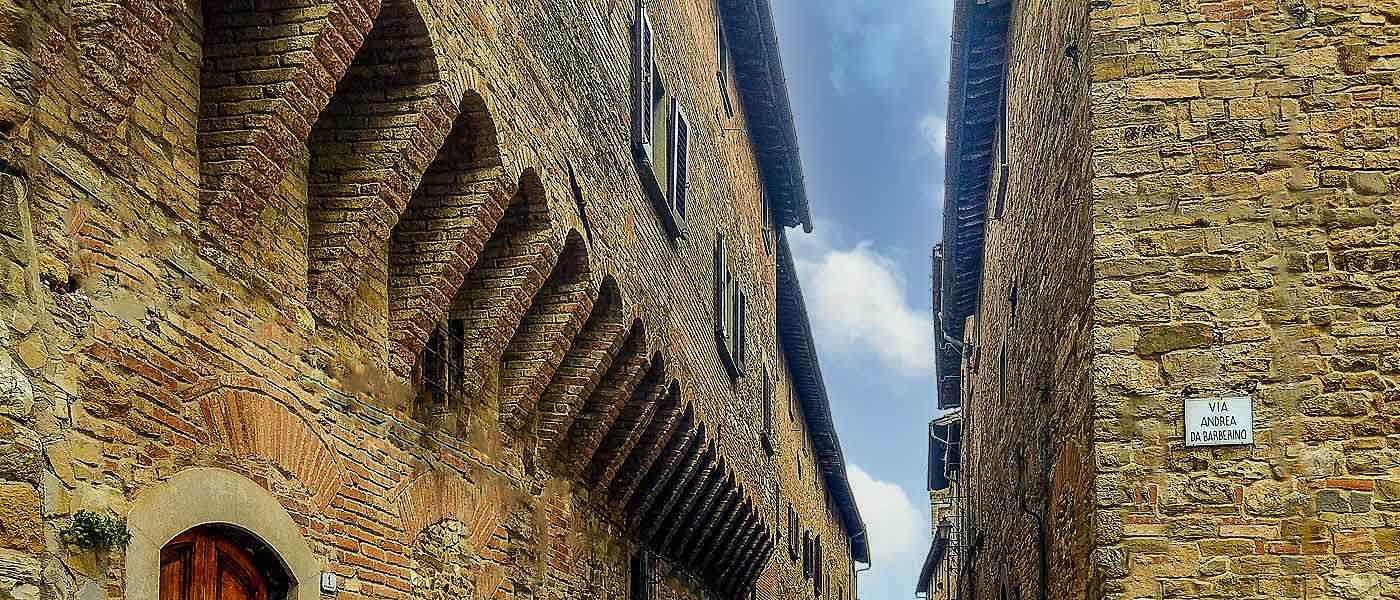 Barberino Val D'Elsa Wheelchair Accessible Tours Accessible
Tours
Val D'Elsa
Barberino
Barberino Val D'Elsa wheelchair accessible tours Florence day excursions
Barberino Val D'Elsa wheelchair accessible tours, is a wonderful and small village in the Florentine Countryside.
It rises a few kilometers from other Tuscan gems, such as San Gimignano, Certaldo and Montespertoli.
Is located in the Chianti Area, it extends over a hilly area full of vineyards, olive groves and centuries-old cypresses,
The village being along the road that connected Florence to Rome, has always been dedicated to welcome and hospitality.
The medieval village, enclosed by the mighty walls, is crossed by the main street that joins the two access gates.
Is characterized by a shape similar to an elongated spindle, within which the main road reaches the center, connecting the two major access points to the city.
Entering from the Porta Senese to the south, quite well preserved,
Barberino Val D'Elsa Wheelchair Accessible Tours
Disabled friendly Barberino Val D'Elsa wheelchair accessible tours with a professional guide.
Accessible Italian Holiday provide a safe and a full accessible tours around it at previewed itineraries.
Visit this rich and fascinating land with a specialized tourist guide.
Adapted van transportation specifically designed for disabled tourists traveling on holiday to Barberino Val D'Elsa in Tuscany.
Touring Barberino Val D'Elsa
The fortified walls in which the medieval core of the village is enclosed is still the one.
You can imagine, that loomed in the eyes of the pilgrim or merchant of six centuries ago traveling on the back of a mule or horse along the Royal Road to Rome.
The Praetorian Palace, with its many coats of arms, stands against the Piazza Barberini.
The sites of Semifonte and of Sant'Appiano Abbey are the most interesting from an archaeological point of view.
The Church of San Bartolomeo, remodeled in the Neo-Gothic style in the XX century, preserves, in addition to a fragmentary fresco of the XIV century.
Depicting the Annunciation, the table with the Madonna with the Son of the so-called Master of Barberino.
It is the main church of the village.
There are numerous food and wine festivals linked to typical products, which take place throughout the year.
The Wine Tastings, the rustic setting and the colorful gardens are just some of the many good reasons to visit Barberino Val d'Elsa, a quiet destination waiting to be discovered!
Booking & Travel
Barberino Val D'Elsa wheelchair accessible tours.
Unmissable visit at it with our Florence Accessible Tours, in Tuscany.
Specifically tailored to wheelchair users, reduced mobility persons and disabled with an adapted van.
Florence wheelchair accessible Services
Florence wheelchair friendly accessible Hotels